We are a community based radio station, and appreciate any donations to assist us. All donations help to the maintenance and development of our Media Suite.
Radio Club - Giving Students a voice.
Why School Radio?
We are a creative and innovative school with students that are eager to learn new and exciting ways of communicating. Our students want to produce and create talk shows, have fun with radio drama, share book reports and discuss issues that matter to them in a non-confrontational format. Whether it is discussing important issues or sharing the music they love, radio gives our pupils a voice within our school.
Benefits of School Radio.
School Radio helps Schools and Academies enhance their learning to meet the National Curriculum in ways that you may not even realise. Confidence, Self-esteem, Empowerment, Inclusion, Speaking and Listening Skills, improving Literacy,Teamwork and Vocational Skills.
Better engagement with the students and staff using a cross school communication platform. Aid teachers in achieving a majority of the National Curriculum Standards. Showcase the talents of our pupils.
Improve links with our wider community and reach around the world.
How do we apply SMSC in School Radio?
Spiritual Learners - Imaginative, Reflective and Creative.
Moral Learners - Appreciate different points of view. Have knowledge of ethical and moral issues.

Cultural - Understand different cultures around the world. Showing respect when exploring different faiths.

Social - Participate in Community events. Use of different Social Skills.
School Radio
Connected happily to Schools, Academies, Colleges and Universities broadcasting creative elements through airwaves to parents, families and the communities.
Listen to our Superstars of the Nursery.
Reception producing their School Jingle.
Year 1 tell us about their school life.
Here! Here! The School Council have arrived!
Did You Know? Science fact of the week!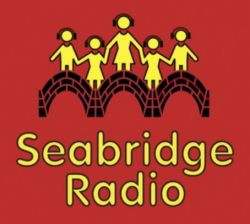 Click above to listen to Seabridge Radio!
Click here to listen to previous shows.
Click here to listen to previous interviews.
Click here to listen to adverts created by the children.
Meet the Team of 2016-2017.
Hi, my name is Harrison and I am so happy to be part of this years Radio Team. I think it will be a great way to meet new people and help to develop my self-esteem and confidence. My sister Jess was in Radio Team in 2013 and she loved it, but I think I will love it more than her!
Hi guys, I'm Robert and I'm part of the new Seabridge Radio team. Want to know a little more? My hobbies are: football, mess making, radio, cooking, dodgeball, basketball basically anything sporty! I wanted to join the radio because I always like to know what is going on around the world.
Hi, my name is Harry and I am part of the Radio Team this year. Being part of the team is going to boost my confidence and will help me with speaking in public. I like to play sports which is good because I am the Yellow Team Captain. I love school because of the topics and my friends. My favourite song at the moment is Cold Water by Major Lazer ft. Justin Bieber.
Hi, my name is Tabitha and I am part of this year's team. Want to know more about me? Well I like watching WWE and my favourite superstar is Randy Orton. My hobbies are Seabridge Radio, kick boxing, football - I class myself as a tomboy! I also like to help my mum, dad and brother. I am really excited to work with Mrs. Greenwell.
Hi guys, my name is Imogen. I decided to sign up with the Radio team because it will help to boost my confidence. I have support from my friends with the Radio. I love animals, except from snakes as they give me the shivers! I want to focus on reporting about animals and my interest in them. I can't wait to show you the wild side of my love for animals!
Hello, my name is Esme and I love music! I love being part of the Radio Team, we work well together. When I hear the music I will be singing along to the radio - will you? I love gymnastics and I am part of the Cheerleading Squad here at Seabridge.
Hi everyone, I am Jasmine and let me tell you why I joined the Radio Team. I think it will help to boost my confidence and help me to speak in public. I like cooking, playing my guitar and dancing. I think I am really lucky to be on our school radio.
Hi everyone, I am Alice and I joined the school radio because I thought it sounded fun and interesting. I am not the most confident person so I thought it might help build my confidence so I will be ready to join High School.
Hi, my name is Jacob and I joined the radio because I think the radio will be fun and I love the idea of the whole school listening to me! I am 10 years old, I like chess and climbing although I don't like the heights! I have a PS3 and I enjoy having time to play on it.
Hi everyone I'm Grace, and I am part of the new Radio Team! I joined because I think it will help with my confidence. Want to know more about me? I enjoy reading everything! I love playing with my sister Rose and little brother Jack. I also enjoy cheerleading, choir and the radio at Seabridge Primary.
Hi, my name is Maisie and I am a new team member. I think this chance will boost my confidence and prepare me for High school. I think this opportunity is great for kids like me to be able to speak on a radio station! I must admit the first time I went on the radio, it was scary but once I started speaking I was fine. I would like to thank Mrs. Greenwell for all that she has done for us with the radio.
The Radio Team of 2014/2015 Supported with the Radiothon

.
Our very first Radiothon takes place very soon!
The Radio will commence from 9am on the Friday morning so make sure you tune in via our school website, by clicking on our logo tab.
The event will then be open to the Community from 5pm, where you can have fun on a number of Inflatables, join Time for Sport and Bee Active for sports games, or simply wander around the KS2 Hall and Year 6 area to purchase goodies from various stalls.
Look out for the Newcastle Fire Brigade Demo too on the playground!
If you get peckish you could always visit the BBQ and wash down your food with a cocktail from the Bar, or better still visit the CineClass in Year 4 area and fill up on Popcorn, Candyfloss and refreshments whilst watching short Pixar movies - look out for some special guests in this area!
Then the event of the evening!
Fancy meeting with some of our well known names of Stoke-on-Trent? Then stroll up to KS1 Hall, where you will pay an entrance fee of £10 per adult, with 1 FREE Child accompanying (under the age of 11yrs) to join the guests for a minute turnaround - for a chat and 'selfie' before you then move on to the next familiar face.
Tickets for the Meet n Greet a local Celeb are now on sale in the School Office, but be quick as there are limited places!
Tickets for the Radiothon event are also on sale OR purchase on the gate from 5pm.
£1.00 adults and children are 50p.