Donations
Show us your support by sending us a donation.
We are a community based radio station, and appreciate any donations to assist us. All donations help to the maintenance and development of our Media Suite.
Radio Club - Giving Students a voice.
Why School Radio?
We are a creative and innovative school with students that are eager to learn new and exciting ways of communicating. Our students want to produce and create talk shows, have fun with radio drama, share book reports and discuss issues that matter to them in a non-confrontational format. Whether it is discussing important issues or sharing the music they love, radio gives our pupils a voice within our school.
Benefits of School Radio.
School Radio helps Schools and Academies enhance their learning to meet the National Curriculum in ways that you may not even realise. Confidence, Self-esteem, Empowerment, Inclusion, Speaking and Listening Skills, improving Literacy,Teamwork and Vocational Skills.
Better engagement with the students and staff using a cross school communication platform. Aid teachers in achieving a majority of the National Curriculum Standards. Showcase the talents of our pupils.
Improve links with our wider community and reach around the world.
How do we apply SMSC in School Radio?
Spiritual Learners - Imaginative, Reflective and Creative.
Moral Learners - Appreciate different points of view. Have knowledge of ethical and moral issues.

Cultural - Understand different cultures around the world. Showing respect when exploring different faiths.

Social - Participate in Community events. Use of different Social Skills.
School Radio
Connected happily to Schools, Academies, Colleges and Universities broadcasting creative elements through airwaves to parents, families and the communities.
Our children in action with their own jingles! Just click to listen!
Listen to our Superstars of the Nursery.
Reception producing their School Jingle.
Year 1 tell us about their school life.
Here! Here! The School Council have arrived!
Did You Know? Science fact of the week!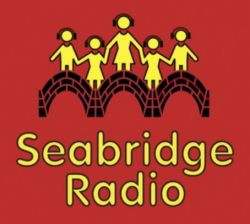 Click above to listen to Seabridge Radio!
Click here to listen to previous shows.
Click here to listen to previous interviews.
Click here to listen to adverts created by the children.
Meet the Team of 2017-2018.
Hi I am Tom. I am amazed I got into the Radio Team. At the moment I am coding my own website! I joined because I want to know how to interview people and I want to learn more things on the computer. My hobbies are: coding, Parkrun, swimming, Sea Cadets and learning different languages such as German. Make sure you tune into Seabridge Radio weekly to hear me!
Hi I'm Philip and I wanted to join the Radio Club because I really like technology and computers. I wanted to improve my skills and I really enjoy the Media Suite and station.
Hi I'm Vinuki and I wanted to join the Radio Team because I have never done anything like this before and I definitely think this will boost my confidence, being out of my comfort zone. Now, would you like to know more about me? Well, I like to swim, play the violin and do Salsa. I'm really looking forward to next year when I will be really confident when speaking on the radio.
Hi everyone! My name is Jack and I am a computer nerd! I like to have a good joke, but also know when to knuckle down and get serious. I am part of the Radio Team this year and am very excited to write reports, I am grateful to have a place on the team. I think the radio will help me with social skills - also the experience is a great opportunity. Hope you enjoy my future reports!
Hi, my name is Ruby and I signed up for the Radio Team so I could meet lots of interesting people, and to help with my confidence. I am so grateful to get a place, I cant wait to meet some of the famous people we have on our shows!
Hi, my name is Mia and I wanted to join Radio Team because I love to be creative, and think meeting interesting and famous people will show that side of me. I LOVE Art , crafts, playing outside, and baking. I am really looking forward to having fun with all my friends on the radio.
Hi I'm Charley and I joined the radio because I wanted the opportunity to meet many different people, and learn about their professions. I also came on the radio so I could learn how to use skills to boost my confidence. I can't wait to start this year and I'm really looking forward to working with Mrs.Greenwell in 2017/2018. My hobbies are trampolining and I love English and Art at school.
Hi I'm Pacha and the reason I joined the radio team is to conquer my fear of stage fright! I'm hoping being on the radio will boost my confidence, and interviewing people will help and plus it's a once in a life time role being a child presenter, I'm so grateful to have this opportunity. In my spare time I love to cook , art and crafts and to go on holiday.
Hi, my name is Gemma and I will be in the radio team from Sept 2017-2018. I wanted to join the team because I am very confident and excited to interview famous people. Some of my hobbies are: gymnastics, playing in the garden, arts and crafts. I am really looking forward to take part in the radio team this year.
Hi my name is Aleasha and I wanted to join the team because I though it was a good and exciting opportunity for me. I have six siblings and my hobbies are: gymnastics, netball, cheerleading and football. I started Sea Cadets last year and I love it! I think I will like interviewing and meeting people the most, but I will enjoy writing the reports in the job too.
Hi my name is Tristan and I joined the Radio Club because I want to build my confidence. Want to know more about me? I am a shy and caring person, I'm hoping the radio will strengthen my voice and help me to express my personality over the airwaves.
The Radio Team of 2014/2015 Supported with the Radiothon

.
24 hr

Radiothon Friday
20th May from 9am!
Our very first Radiothon was a great success!
The Radio commenced from 9am on the Friday morning.
The event was open to the Community from 5pm, there was fun with a number of Inflatables, Time for Sport and Bee Active sports games, or you could wander around the KS2 Hall and Year 6 area to purchase goodies from various stalls.
If you got peckish you could visit the BBQ and wash down your food with a cocktail from the Bar, or better still you could visit the CineClass in Year 4 area and fill up on Popcorn, Candyfloss and refreshments whilst watching the short Pixar movies.
Then the event of the evening
Fancy meeting with some of our well known names of Stoke-on-Trent! It all happened in the KS1 Hall, where you could pay an entrance fee of £10 per adult, with 1 FREE Child accompanying (under the age of 11yrs) to join the special guests for a minute turnaround - for a chat and 'selfie' before moving on to the next familiar face.
We had a huge success with the event raising a staggering £2,445.00 for the development of our studio, bringing it into the future with an exciting project yet to be announced.
EXCITING OPPORTUNITIES ARISE FROM OUR LOCAL SPORTING HEROES INTERVIEWS!!
Not only are we fortunate enough to secure interviews with our local celebrities but in addition, we then get approached by a local author/publisher who would like to utilise our interviews and produce a book! The book incorporates our current Yr6 children writing 'ghost scripts' of the interviews - that will then be published in the book, alongside illustrations; designed and supported by students from Staffs University.
The children had a wonderful afternoon with Peter Hooper (owner of Cox Bank Publishing Co.) and the students: creating images, story lines and quotes - to be added to their scripts.
The book will be available to buy in the near future so look out for 'Sporting Heroes' in the book stores very soon!
Comedy Night 2 - starring UK Comedian Legend Stan Boardman
To follow on from our fabulous night with Comedian Mick Miller, here at Seabridge we promised to hold another Comedy evening as requested by our community, and succeeded to host with another UK Legend - Mr.Stan Boardman.
Our night unfolded with adult games, fantastic musical entertainment with local theater star Laura Kate Harvey, local band Brothers in Harmony and then the star himself, Stan.
We had a great response from the community with over a 100 people in attendance, raising funds for our ever-developing Media Station, we always appreciate the great support from parents and local neighbours.
We had a very special interview with Sam De Lange who is involved with the charity Mind. Sam visited Seabridge Radio to discuss with the children about the sensitive issues surrounding Mental Health. Please follow the link www.strikerboy.com/striker-boy-on-seabridge-radio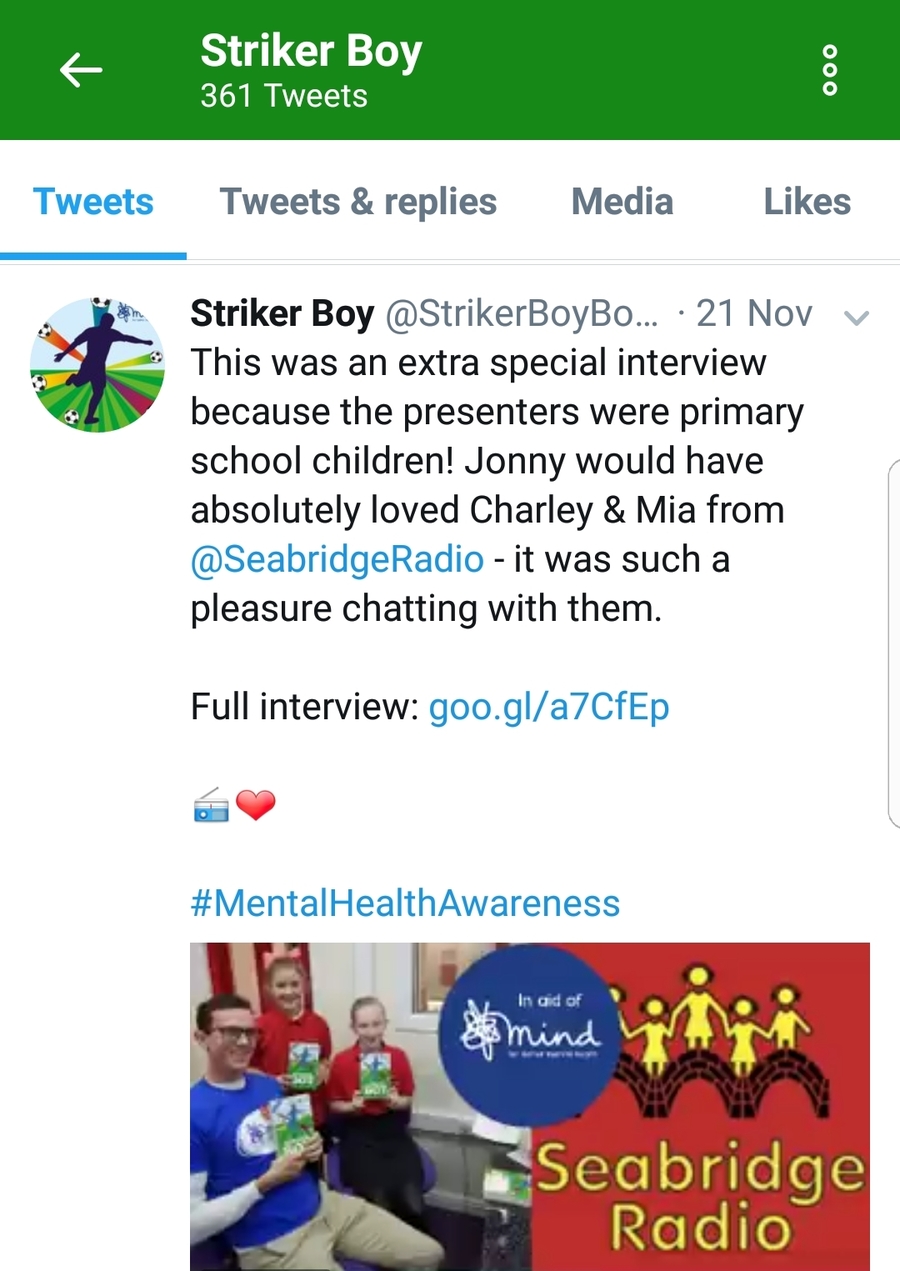 Seabridge Radio Comedy Night starring British Comedian Mick Miller.
Wow! What a fantastic turn out we had for our Comedy Night, the support was incredible!
The evening began with our table-hopping magician Dan Challinor, making his way around the very packed hall - he really was a magical act! Followed by fun and games hosted by BBC Radio Sports Editor Graham McGarry, who also generously donated Stoke City, Port Vale and Crewe Alexander signed football shirts for a mini auction, raising a whopping £200.00!
Next, we had a wonderful Micheal Buble tribute artist, Tom Maurice.

Tom has been performing for many years with a passion for musical theatre, he has played many principal roles at The Regent Theatre, most recently Lark Larkin in Hairspray in 2015 and Mark Cohen in Rent. He sang a few numbers and had the audience tapping along.
Then the man of the night - Mick Miller, he was incredibly funny and had the audience howling with laughter, his stand up comedy was just hilarious, good old fashioned jokes accompanied by his professional delivery, his serious faces and his perfect timing of punch lines, it just made the evening fly.
We successfully raised another huge amount, to help with the further development and maintenance of our Radio Station. We thank you all who attended and to those who helped with donations.
The Comedy day on the whole was an energetic and positive event for the children in school joining in with fancy dress and joke classes, plus the adults who attended in the evening.
We definitely brought laughter to the corridors of Seabridge Primary School!
Seabridge Radio Community Hub afternoon .
Friday 27th January 2017.
We were thrilled to have our first Radio Community Hub afternoon in the KS2 hall. We had invited local community groups in to meet and greet the parents and let them know about what they have on their doorstep!
We had a variety of themes : Baby Yoga, Young Ones Dance School, Staffs County Council Libraries, Newcastle BID, Time for Sport, Staffs Wildlife, Elsby Associates and Wills, St. Andrew's Church, The Daisy Foundation, and Seabridge Care Club.
Our Radio Team were just brilliant at hosting their show and interviewing the representatives on air. The children were assigned to a chosen group in the hall, and listened to detail about what they had to offer the Community, and then they helped to deliver information to the parents.
We had fantastic feedback for the show aired, and the Community Group's were exceptionally pleased with the opportunity to meet parents and network with each other.
Overall, a very successful afternoon for our Radio Team!
September 2016 Goals: To interview our local Olympians of Rio 2016!
We couldn't believe the success of our local athletes that competed in the Rio Olympics 2016! The only objective for Seabridge Radio was to track them down and put out a plea with them to come and visit our school! We were thrilled to have achieved our goal to interview three of our Olympian Superstars from TeamGB!
Canoeing Gold Medalist Joe Clarke, ParaCanoe Bronze Medalist Ian Marsden and successful competitor Jazmin Sawyers all arrived in the Autumn Term, and WOW! weren't we truly inspired!
Thank you to the Olympians for the precious time spent with us!
Just Look at the success we have had so far!
Seabridge Radio begins in September 2015 with a whole new look!
Wow! What a great start we have had with our new team for Seabridge Radio 2015/16.
Not only did we have an amazing new make-over during the Summer, with an additional studio and Waiting Area, we have had guests from all walks of life weekly, and the diary is very busy right into 2016.
Our fantastic Year 6 Media Team have spent hours researching their guests careers, generating interesting questions for the listeners and then using their fabulous Speaking and Listening skills (to present in their own style) in their interviews - which can be listened to via the Soundcloud link, if you missed them on the show!
We are thrilled to announce Jonathon Wilkes will be officially opening our new studio this month, so watch this space!
In the meantime, remember to tune in via the school Website every Friday from 12pm to listen to our show!
If you have a story to tell, and would like to be aired on the show, contact us at seabridgeradio@hotmail.com
Entertainer Jonathan Wilkes Opens our new Radio Suite!
It was so exciting to receive the news that Jonathan Wilkes was going to open the relaunch of our new Radio Station Suite.
He made his entrance on Tuesday 24th November early! We had to invite the Media Team in school at 8.15, prepare Care Club for his arrival - and they were very considerate of our wishes, and the Care Club children gave him a warm Seabridge welcome.
Jonathan couldn't believe that we have this amazing facility in our Primary School, and was blown away by the quality of it all. His interview was hilarious, Livvy and Amy really struggled to contain their giggles. Jonathan was very impressed with their interview skills and wished us well for our future in Radio, before rapidly leaving to get back to his Panto rehearsals at the Regent Theatre.
We are very grateful for the time he spent with us.If you missed his interview you can always catch it on the Soundcloud Link we have - it's well worth a listen!
'What Makes a Marvellous Teacher?'
Hello Nello!
We have had a really exciting opportunity for the Media Team this term!
The school is in partnership with a teacher training provider known as the SCITT, who provide a school-centred course. This gives the students that join us here, practical, hands-on teacher training - which are then mentored by our experienced, practising teachers based here at Seabridge Primary.
The children were asked to help in the making of an advert, to encourage more people to train to become teachers - sadly, we do have a short fall in this particular area.
We excitedly welcomed our 'special' visitor - BAFTA Award Winner for Best Drama 'Marvellous', Neil (Nello) Baldwin to the school, so the children could ask Neil about what he thinks makes for a marvellous teacher and why Keele is a marvellous university for our school to be partnered with.
The children did a fantastic job with their homework, developing idea's, creating Mood Boards, brainstorming their ingredients to make a 'Marvellous' teacher such as: a cupful of strictness, a spoonful of smiles, a jug of creativity, and so on...
We really enjoyed meeting Neil and Malcolm Clarke, author of Marvellous. It was a wonderful experience the children will never forget!
Thank you to the SCITT for making it possible for us to assist in the making of their advert, we are currently waiting patiently to watch the end product!
SEABRIDGE RADIO WELCOMES THE BEAST!
We were so excited to have UK Strong Man Eddie Hall in the radio suite. It was so difficult to choose the children that would interview - as they all wanted to interview Eddie! So a challenge was set...
The child that had the most research into Eddie's background, and the most intriguing questions to ask , would interview him.
Step forward Amy Baker and Declan Stevenson! From their homework it was evident that they had researched Eddie's history THEN came their questions!
To hear this fabulous interview, click on our Soundcloud link!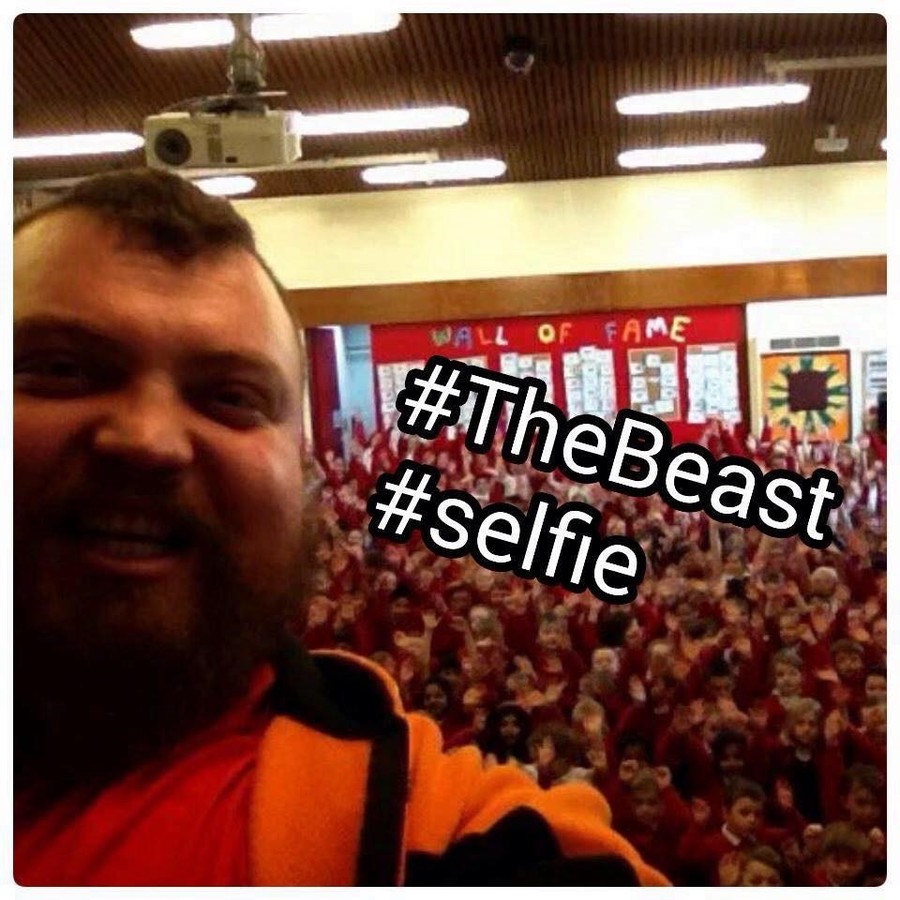 Radiothon Raises the Roof!!
E-Safety Awards with Staffordshire Police.
Staffordshire Police CSE Prevention Challenge has been a focus for the radio team since May 2016. We were invited to produce a commercial to make children aware of the dangers that can be found on the internet.
Our E-Safety Cadets and Radio Team members , Noah and Grace, were already well informed of the dangers with the E-Safety Club and were really up for the challenge of producing an advert for the radio.
We worked together on ideas and listened to various sound effects and decided what theme we would concentrate on that would be 'child friendly' for all ages and then we produced the commercial that was successful in the competition!
On Monday 20th June we arrived at Bet 365 Stadium for the Award ceremony and the Radio Team were so excited for the announcements! We were invited to visit stalls in the room that had merchandise related to Online Safety that the children could have. We also participated in activities that focused on E-Safety with the Staffordshire Police. Then the Awards were presented! To find out we came first in our category was amazing, we were thrilled with the outcome!
It was such an educational morning with so many positive learning tools to help our children. We really appreciate the involvement we had with Staffordshire Police.
Please listen to our commercial produced with Noah and Grace.