Year 1
Happy New Year!
We thoroughly enjoyed the Autumn Topic of Once Upon a Time - more photographs and videos have been added!
Our topic this term is: To Infinity and Beyond and we look forward to learn lots about space, we are already showing lots of enthusiasm for this topic.
Split digraphs are very tricky in phonics! This video can help us to understand them.
This video helped us to learn the phonemes a-z in early years. It still helps us when we practise sounding out our words.
Here are all the graphemes we will be learning this year and the corresponding phrases to help us remember them.
This is how my teachers mark my books in Year 1.
The Healthy schools project
Below are some videos taken from one of our Phonics lessons in the Autumn Term.
We hope that they give you an insight into how phonics is taught and that they can be used to help you to support your child at home.
Enjoy watching us perform our Alphabet Chant!
Here we are practising the phonics wall. Each sound (phoneme) is made up of two or more letters which are called digraphs, split digraphs, trigraphs or four letter strings. Each of the phonemes has an action and phrase to match a picture and all this helps us to remember the sound that each makes so that we can use this knowledge in our reading and writing.
We use the alphabet chant pictures as writing cues to support our letter formation. At Seabridge, we teach the children to write cursively (all letters have the same starting point). As they are taught digraphs, trigraphs and four letter strings we then teach them how to correctly join these letters together to emphasise that they make the one sound.
Here we are using our fingers to count the number of phonemes within words.
Have a go with us. Put your fingers in the air, in the air...
This is a demonstration on how we use sound buttons to help us to identify graphemes within words which then helps us to read the words.
In readiness for the phonics screening which takes place in June, we introduce the children to this concept early on in Year One. The children enjoy these alien words and will be fully prepared come June.
Here is a copy of the weekly overview planned for the Spring Term week 2. This will give you an idea of how the school week will look fr Year One this term.
As you will notice, PE for this term will be on Wednesday morning and will focus on eating healthily. Due to time constraints within the mornings (allowing sufficient time for the children to change for PE and receive the full allocation of hall time) please could we request that the children have some jogging bottoms or leggings in their PE kit as they will be out at morning play in their PE kit and we do not want the children to be cold. Remember to name all items of clothing too. Many thanks.
Spring Term Newsletter coming soon...
Spring Term Overview coming soon...
AND they all lived happily ever after...
After a cold and snowy start to the day which halted our plans to walk to St. Andrew's Church we had a lovely day at school celebrating our Fairytale Wedding to end a fabulous term and topic.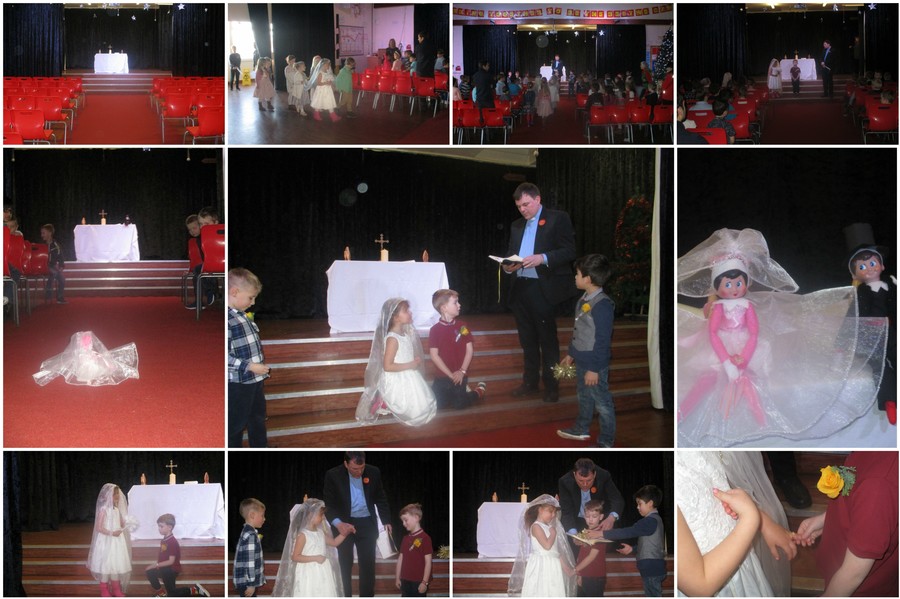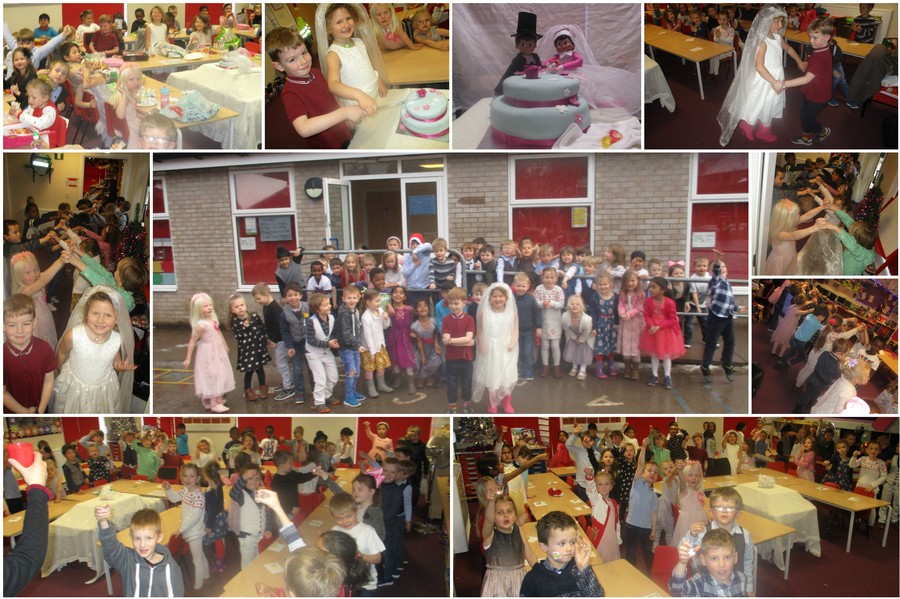 We have enjoyed accessing Continuous Provision in the afternoons.
In Maths, we have been practising our number formation, ordering numbers, counting reliably and finding one more or less using a range of resources.
Forest School Day. What a fabulous day in the great outdoors!
Cinderella shall go to the ball...
What fun we had scooping out pumpkins and making pumpkin soup! We then worked our magic and built carriages too.
In science, we explored and discussed the properties of materials and sorted them in a variety of ways. Finally, we sorted them for the Gingerbread Man deciding which materials would be the best for him to use for a raft to cross the river safely - and not get eaten by that fox! We then made our predictions and tested out the materials.