Children attend Reception class from the September after their 4th birthday. There are 2 Reception classes each with 30 places.
Meet our Reception Team:
RK - Miss Keeler and Mrs Allen
RC - Mrs Chapman and Mrs O'Rourke
Early Years Education at Seabridge Primary School.
Our Ethos
We believe that it is important to provide an Early Years Education that aims to meet the individual needs of every child in our care, both educationally and pastorally. Children develop most quickly in the Early Years and high quality early learning provides the foundation children need to fulfil their potential to make the most of their abilities as they grow up.
We offer children rich experiences in a variety of situations, in a happy, active, safe and secure environment that invites them to engage fully in their learning. We support development, care and learning needs through play following the Early Years Foundation Stage Curriculum (EYFS), striving to ensure that every child has the opportunity to achieve their full potential.
The Early Years Foundation Stage (EYFS)
The Early Years Foundation Stage Framework supports an integrated approach to early learning and care. It gives all professionals a set of common principles and commitments to deliver quality early education and childcare experiences to all children from birth to 5. It provides the opportunity for learning and development to take place hand in hand by giving opportunities to develop in all 7 areas.
The E.Y.F.S. focuses on seven areas of learning, these are;
Personal, Social & Emotional Development.

Communication & Language.

Physical Development

Literacy Development

Expressive, Arts & Design

Mathematics

Understanding the World.
Learning and development in the EYFS.
At Seabridge Primary School, learning and development in Nursery and Reception takes place through a wide range of adult-directed and child-initiated and enhanced activities. Learning through play and first hand practical experiences provide the children with the opportunity to develop in all seven areas of learning. This can also be interlinked i.e several areas of learning and development will take place during any one activity. We currently provide a rolling program of topics throughout the Nursery and Reception classes and parents are encouraged to support their children with their learning. We incorporate the children's interests and ideas within the planning to provide personalised learning experiences. The foundation stage classes are adjacent to each other and we have a shared outdoor area where all foundation stage children can learn together.
Characteristics of Learning
We also integrate the Characteristics of Effective Learning into all aspects of the EYFS curriculum. These are:
Playing and Exploring – engagement
This incorporates finding out and exploring. Playing with what they know and being willing to have a go.
Active Learning –motivation
This is how involved the child is, how well they concentrate, keep trying and how they enjoy achieving what they set out to do.
Creating and thinking critically – thinking.
Do they have their own ideas, how they make links with their learning and choose ways to do things.
EYFS for Parents
For further information see this website for invaluable information and documentation for parents: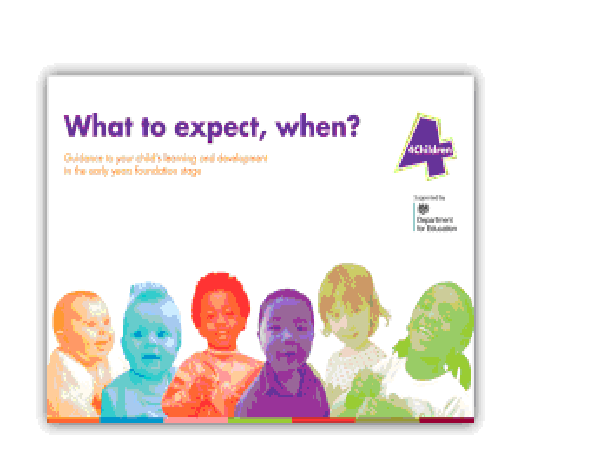 http://www.foundationyears.org.uk/eyfs-statutory framework/
What to expect, when?
It is widely recognised the vital role that parents have in supporting their children's learning and development. Parents need to know what to expect in relation to their child's development through the different age bands of the EYFS.
What to expect, when? is a simple guide which takes parents through the expectations of each age band in the EYFS and how they can support their children's learning and development.
This latest addition to the EYFS suite of materials is available to download as a free pdf.
Please find the Parents' Guide for the Early Years Foundation Stage Framework below.
Spring Term 2.
Please see below our topic overview for the second half of the Spring term.
Spring Term 1.
Please find below the Parent / Carers letter and Topic web for the Spring term.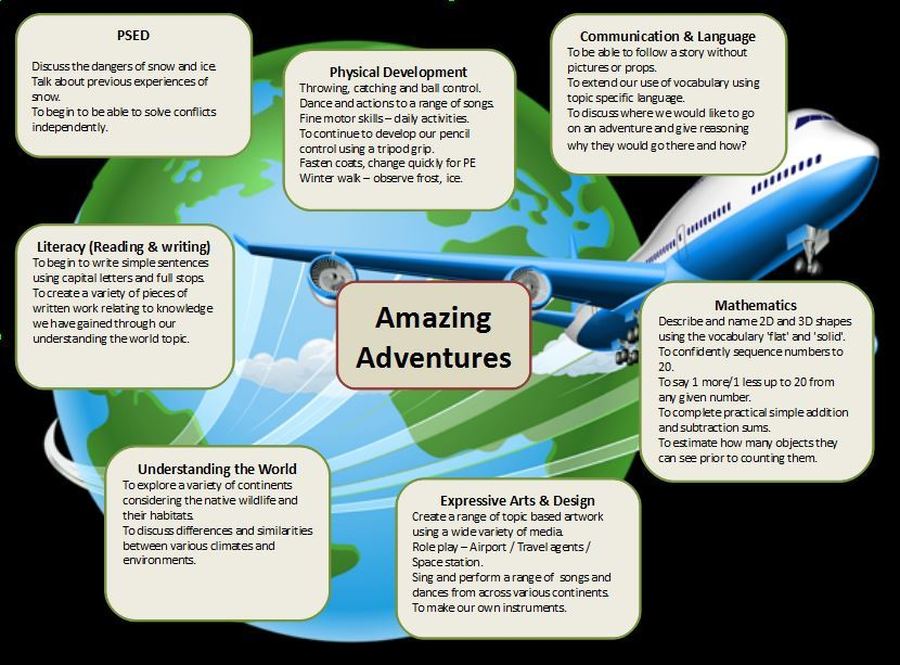 Autumn Curriculum Overview
Reception Information Evening Power Point Presentation.
We would like to thank all the parents who attended our information evening, it was lovely to see so many of you. For those parents who were unable to join us we have attached the power point used for your reference.
We celebrate our British Values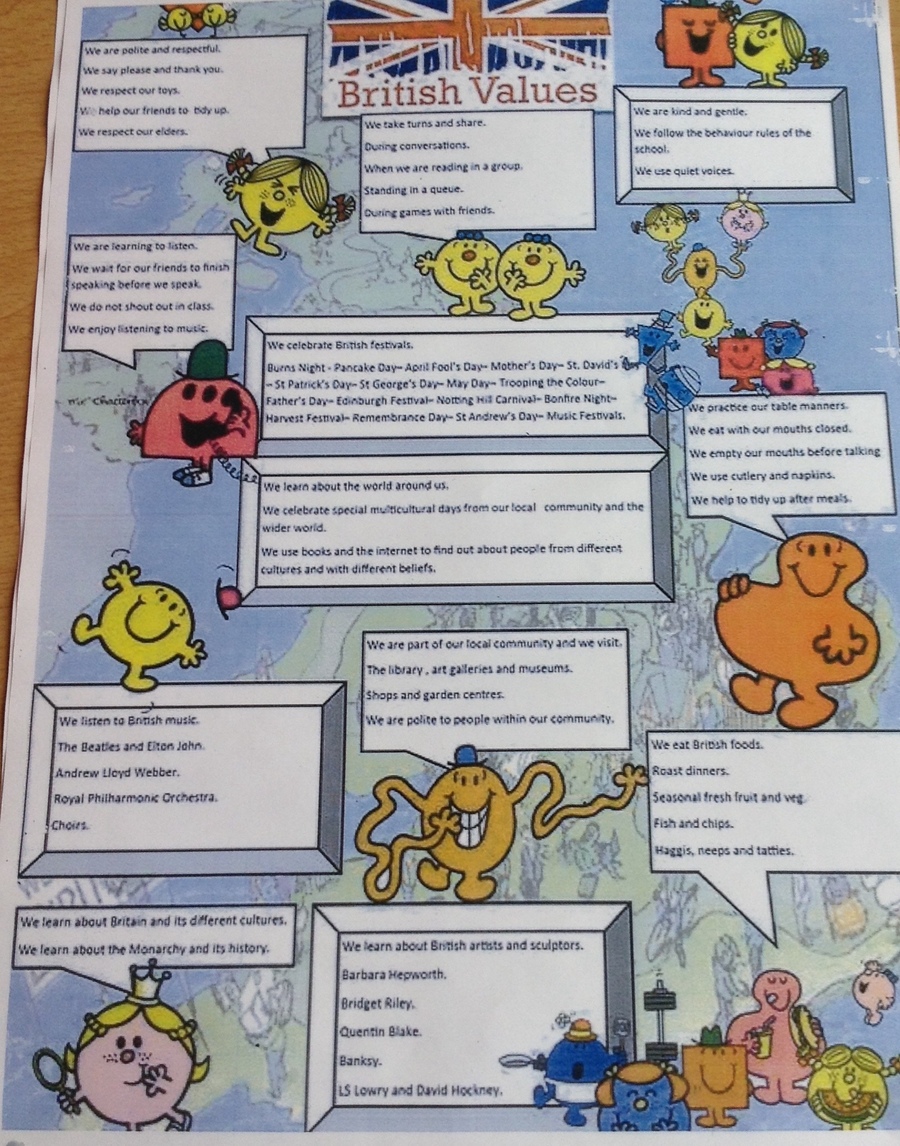 Reception classes took part in their own mini bake off. RC made shortbread people and even washed up! RK decorated their own shortbread people to look like themselves or members of their family.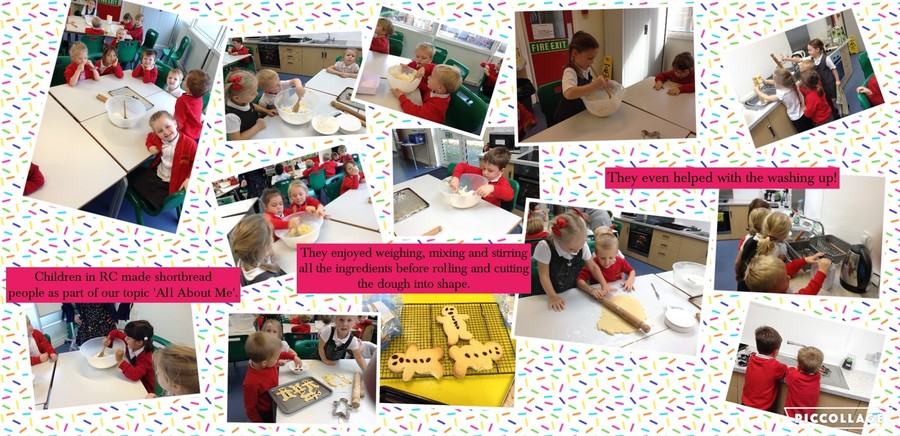 Children in RC and RK had a fabulous day taking part in Forest school activities. We even had a surprise visit from Mrs 0'Rourkes pet hedgehog 'Autumn Willow'.