Meet our Early Years Team
Early Years Education at Seabridge Primary School.
Our Ethos
We believe that it is important to provide an Early Years Education that aims to meet the individual needs of every child in our care, both educationally and pastorally. Children develop most quickly in the Early Years and high quality early learning provides the foundation children need to fulfil their potential to make the most of their abilities as they grow up.
We offer children rich experiences in a variety of situations, in a happy, active, safe and secure environment that invites them to engage fully in their learning. We support development, care and learning needs through play following the Early Years Foundation Stage Curriculum (EYFS), striving to ensure that every child has the opportunity to achieve their full potential.
The Early Years Foundation Stage (EYFS)
The Early Years Foundation Stage Framework supports an integrated approach to early learning and care. It gives all professionals a set of common principles and commitments to deliver quality early education and childcare experiences to all children from birth to 5. It provides the opportunity for learning and development to take place hand in hand by giving opportunities to develop in all 7 areas.
The E.Y.F.S. focuses on seven areas of learning, these are;
Personal, Social & Emotional Development.

Communication & Language.

Physical Development

Literacy Development

Expressive, Arts & Design

Mathematics

Understanding the World.
Learning and development in the EYFS.
At Seabridge Primary School, learning and development in Nursery and Reception takes place through a wide range of adult-directed and child-initiated and enhanced activities. Learning through play and first hand practical experiences provide the children with the opportunity to develop in all seven areas of learning. This can also be interlinked i.e several areas of learning and development will take place during any one activity. We currently provide a rolling program of topics throughout the Nursery and Reception classes and parents are encouraged to support their children with their learning. We incorporate the children's interests and ideas within the planning to provide personalised learning experiences. The foundation stage classes are adjacent to each other and we have a shared outdoor area where all foundation stage children can learn together.
Characteristics of Learning
We also integrate the Characteristics of Effective Learning into all aspects of the EYFS curriculum. These are:
Playing and Exploring – engagement
This incorporates finding out and exploring. Playing with what they know and being willing to have a go.
Active Learning –motivation
This is how involved the child is, how well they concentrate, keep trying and how they enjoy achieving what they set out to do.
Creating and thinking critically – thinking.
Do they have their own ideas, how they make links with their learning and choose ways to do things.
EYFS for Parents
For further information see this website for invaluable information and documentation for parents: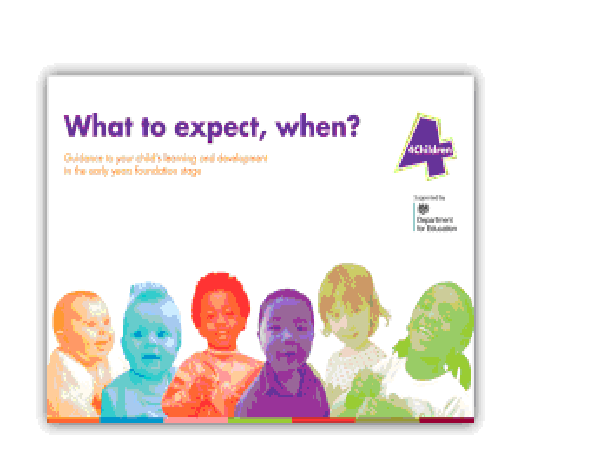 http://www.foundationyears.org.uk/eyfs-statutory framework/
What to expect, when?
It is widely recognised the vital role that parents have in supporting their children's learning and development. Parents need to know what to expect in relation to their child's development through the different age bands of the EYFS.
What to expect, when? is a simple guide which takes parents through the expectations of each age band in the EYFS and how they can support their children's learning and development.
This latest addition to the EYFS suite of materials is available to download as a free pdf.
Please find the Parents' Guide for the Early Years Foundation Stage Framework below.
Spring Term 2.
Our topic in Nursery this half term is Favourite stories/ Traditional tales.
The stories we are covering are;
Goldilocks and the 3 Bears.
The 3 Billy Goats Gruff.
The 3 Little Pigs.
The Gruffalo.
We are focusing on the different features of stories- characters, settings, events and plot. We will be retelling these stories using props and puppets.
Enter text...
Spring term-1
Happy new year!! A warm welcome back! We hope you have all had a lovely Christmas!
Our topic this first half term is 'Winter Weather'. We will be looking at the Weather in Winter and activities that we enjoy at this time of year. The children will look at seasonal changes such as dark nights, colder weather and clothes that we need to wear. We will also talk about animals during the winter time, hibernation and animals that live in the polar regions.
.
Dates for your diary.
Autumn-2. 2017.
A warm welcome back after the half term. We are now getting ready for a very busy half term, as Christmas fast approaches!!!!! Our topic this half term is Festivals and Celebrations. The topic web is below which gives you more information. Towards the middle of the half term you will receive more information about our Christmas performance.
Many Thanks
The Nursery Team
Nursery Nativities.
Tuesday 5th December 10am.
Wednesday 6th December 10am.
Parents, please drop your child off at Nursery as normal, then make your way around to the main school entrance where refreshments will be served in the KS1 hall prior to the concert.
Tea or coffee, a mince pie and a programme will be £1. Funds will go to Nursery for new resources.
Thank you for your support.
Visit to see Santa at Bridgemere.
Thursday 7th December.
This visit takes place in Nursery hours. We will be back for end of the Nursery session at 12pm.
Visit to the New Vic theatre- Tale trail.
Tuesday 12th December-Mrs Jones' groups- Bees and Ladybirds.
Wednesday 13th December- Mrs Sayer's groups- Butterflies and caterpillars.
This is a short visit, behind the scenes for young children. We are not watching the performance.
The time slots for this is 11.15 so we are aiming to be back at Nursery at 12.30.
Teachers
Mrs Sayer
Mrs Jones
Teaching Assistants
Miss Smith
Mrs Sudharson
Mrs Kempa
Autumn Term 2017.
We would like to say a really big well done to all of the Nursery children for settling so well. We have had a lovely first week getting to know them and look forward to exciting times ahead.
The Nursery Team
A few reminders;
Please can you ensure all of your child's belongings are clearly labelled. We have already got some items of clothing without names which makes it impossible for staff to return to the correct child.
All children need a spare change of clothing to be kept on their peg. We find that a plain PE bag is best as the children are more willing to leave this in school. If your child does have an accident, the bag will be sent home with a note inside along with the wet items. Please ensure that fresh clothes are put in the bag and it is returned the next day. The only only other bags the children need are the red book bag and their dinner if they stay for lunch.
Children do not need a water bottle in Nursery as we provide milk, water and fruit. Children who stay for dinner do need a drink with their lunch.
All children need a suitable coat and a pair of wellies. The wellies stay in school on your child's peg so that they can access the muddy area in the garden. Please do not send your child in an expensive coat as they will come home muddy!!
If you need to speak to staff, either before school or at lunch time we ask that you wait for all of the children to enter Nursery or exit at lunch time, as it is paramount that the children's safety comes first. If children have forgotten items at home time, we ask that you wait until all of the children have gone out to parents as it is very difficult for staff to safeguard the children if we have children coming in and out of the door.
The first few weeks.
The first few weeks will be spent building up strong relationships with your children to ensure they feel happy, safe and secure. Staff will be observing your children in order to make initial baseline assessments. We will send home a questionnaire about your child's development which we ask that you complete and send back to school as soon as possible as we use this within our assessments.
Autumn Topic.
Alongside our baseline assessments, we will be focusing on 'Ourselves'. Within this we will cover Nursery rhymes and Favourite stories. We will also cover Autumnal activities as the weather changes.
Spring Term 2- Topic "People Who Help Us".
Spring Term 2. Curriculum Letter.
A warm welcome back after the half term!
This half term in Nursery our topic is "People who help us". We will start by looking at people who help us at home and around school. We will then move onto looking at people who help us in our community. We are looking for visitors to come into school to talk to the children who work in the occupations noted on the above topic web. If you know of anyone who would be happy to do this please speak to a member of the Nursery staff. We would be very grateful as it really brings the topic to life for the children.
Phonics.
We are continuing to work through our letter sounds this half term-recognising and hearing initial sounds in words and segmenting and blending simple words. We will continue to send home the letter sheets as we cover them so you are aware of what we are completing in class.
Discussion/ picture books.
Over the next few weeks, we will begin to send home a discussion book to share at home. We will begin by giving the confident communicators a book and then will work through the rest of the children when we feel they are ready. A letter will follow with more information about this.
Outdoor Learning.
Hopefully the weather will now start to pick up!! We ask that your child has a pair of wellingtons kept in school as we will start to use the muddy garden area much more. Children still need a suitable coat please.
Nursery Spring Term 1- Topic Web
Nursery Spring Term Curriculum Letter
Nursery
Autumn Topic Focus: 'All About Me'
Nursery Autumn Curriculum Letter